Posted On Friday, December 16, 2016 by Evan Lamolinara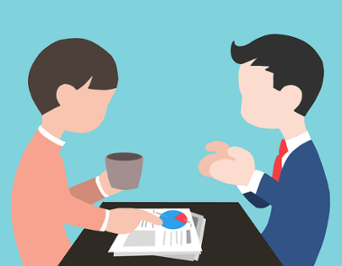 B2B Lead generation strategies typically fall under one of two categories: inbound and outbound. While both can be effective, there are some key differences separating them. If you sell a product or service in an business-to-business setting, you should familiarize yourself with the nuances between the inbound and outbound methodologies, which is something we're going to discuss further in today's blog post.
Inbound vs Outbound Lead Generation
So, what's the difference between inbound and outbound lead generation? Inbound refers to direct promotional practices in an effort to attract prospects at any stage of the sales funnel so they can be "nurtured" into paying customers. It's typically performed through platforms such as blogs, podcasts, newsletters, eBooks, social media, SEO, etc.
Typcially, people will resarch a company, product, or servie prior to engaging with a real person. When you content that is considered valuable to your target market, they will exchange their contact details in order to access the information. 
Publishing an article that's relevant to your target demographic but doesn't necessarily the pitch your B2B product or service, for instance, is a form of inbound marketing. It doesn't come as being "salesy," yet it's still an effective way to generate qualified B2B leads.
In contrast, outbound lead generation refers to a more traditional and direct form of marketing where a salesperson initiates a conversation with a prospect, hoping to acquire the prospect as a qualified sales lead. Conversations don't necessarily have to be vocal between a salesperson and a prospect; they can occur in the form of email marketing, social media outreach, networking, etc. 
Outbound is a more direct form of marketing, whereas inbound marketing encourages prospects to contact YOU. Of course, there are other distinguishable characteristics between these two common new business development methodologies. So, let's take a closer look at some of their benefits.
Outbound Benefits
With so many companies placing an emphasis on inbound these days, some people wonder if an outbound strategy is even worth the effort. The short answer is yes, it's definitely worth the investment of your the time and resources.
According to a survey of 1,000 IT professionals conducted by DiscoveryOrg, 60% said outbound calls and emails have resulted in action, and 75% said they attended an event or took an appointment following an outbound call or email.
In terms of selling power, outbound marketing still has its advantages. According to Moz, traditional outbound marketing has a positive effect on the purchasing decisions for 42% of respondents. After seeing a traditional outbound advertisement, 35.8% of consumers are slightly more likely to buy it, and 6.2% are significantly more likely to buy it.
When speaking specifically about the B2B environment, as opposed to business-to-consumer (B2C), inbound strategies simply don't work as well. The problem with inbound in the B2B world is that it only addresses a portion of the company's market. It's next-to-impossible to achieve full 100% brand awareness through inbound marketing alone. But if you use outbound lead generation techniques, you'll have an easier time reaching various segments of prospects rather than small and otherwise isolated segments.
Perhaps an even bigger problem with inbound, however, is the constant need for content. Inbound marketing revolves around content. Without content, you simply won't generate any sizable number of sales leads, whether they are B2B or B2C. And in order to produce this content, you'll have to spend time, money and resources on finding freelance writers, graphic designers, social media marketing specialists and more.
Inbound Benefits 
There's a reason why so many B2B companies and salespersons are shifting their focus to inbound marketing. According to a report published by CRM Daily, roughly half of all companies that use inbound marketing see a 25% higher return on investment (ROI) when compared to companies that ONLY use outbound marketing. Does this mean you'll generate 25% more sales leads when using inbound marketing? Not necessarily, but most B2B companies agree that it's a helpful strategy when sourcing qualified leads.
The same report also found that inbound marketing channels can deliver up to 30 times the conversion rates of traditional outbound email campaigns. This study doesn't paint the entire picture though, as it focuses on mass email marketing campaigns. Many companies today are using outbound marketing to target specific segments in their email campaigns. While still a form of outbound marketing, targeting segments with your email campaigns yields a stronger response and conversion rate.
Do you need better targeted prospecting data for drive your email marketing campaigns? Learn More Here!
If you have a list of 2,000 email addresses from prospective customers, for instance, you could segment them based on various criteria like title, location, company size, business industry, date acquired, level of interest, etc. Next, you can create different emails for each of these segments. Highly customized emails such as this are a far more effective form of way to drive new prospects into your sales funnel. Some people could even argue that's a hybrid form of inbound/outbound marketing.
Which Should I Choose?
As you can see, both inbound and outbound lead generation strategies have their own benefits. For B2B companies, however, outbound marketing usually trumps its counterpart. It's easier to implement, allows for greater reach, and requires less maintenance. This doesn't mean you should avoid inbound lead generation techniques though.
Consider them both as viable means for connecting with prospects and growing your company, and when the are used in tandem can produce faster growth. 
The bottom line is that both inbound and outbound lead generation are excellent ways to connect with prospects. Inbound is often viewed as being more cost-effective, but when speaking for B2B companies, it's usually outbound marketing that wins the ROI battle.