Posted On Tuesday, March 22, 2016 by Robert Smith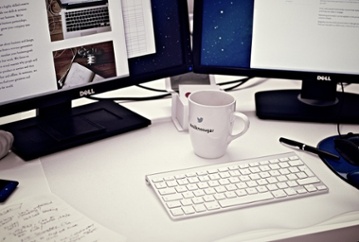 A website is an invaluable tool for commercial moving companies. Long gone are the days when people used phone books to find businesses. Today, they find this information via the Internet. By maintaining an active presence on the web, you'll generate more moving leads for your business. However, you'll want to include the following elements on your website for optimal results.
Contact Information
Of course, you'll want to include your company's contact information on its website. Omitting this information is a critical mistake that will most certainly cost you sales. A simple and effective technique is to place your business's name, street address, phone number and email address at the bottom of your website, including it on every page.
Tip: Include your contact information as plain text and not in the form of an image. Doing so will prove helpful in encouraging higher search rankings for local, geo-specific keywords.
About Us Page
As with most business websites, it's a good idea to create an "about us" page for your commercial moving site. Prospects may feel hesitant to purchase your services without first learning a little bit more about who you are and what you do, which is where an "about us" page comes into play: using this page, you can provide some insight into your business, its history and its employees, creating greater transparency while instilling trust in your target audience.
Quote Request Form
Another essential element to include in a commercial moving website is a quote form. Not every prospect is going to pick up the phone and call for a quote. On the contrary, many will seek a different moving company if your website lacks a quote form. So if you haven't done so already, include a form on which prospects can obtain a quote for a commercial moving service. With some projects, you will certianly need to be  invovled, and potentialy need to do a site visit. However, you need to try to appease your prospects before you get their contact information; if more information is needed, you can always follow up with a phone call later. You must make sure that you are not letting prospects come and go from your site because they did not see what they wanted. 
Photos
Remember the saying "a picture is worth a thousand words?" Well, it holds true for commercial moving websites. Including photos of past moves, your business's headquarters, employees, etc. allows prospective customers to see what your service is like. In turn, you'll have an easier time converting leads on your site if you are transparent with your business' culture, past clients, employees, etc. 
Department of Transportation Number
Moving companies – both residential and commercial – are required by law to publish their Department of Transportation (DOT) number on their website. This is done in an effort to protect customers from rogue movers who are looking to make a quick buck.