Posted On Monday, March 7, 2016 by Robert Smith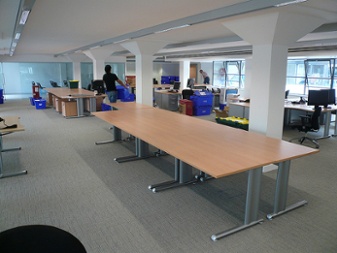 Post Photos of Completed Projects
When it comes to social media, a picture really is worth a thousand words. Commercial moving companies can use this to their advantage by posting photos of before-and-after jobs on social media. So instead of just hearing about your service, prospective customers can see exactly how it's done. Furthermore, photos yield the highest level of engagement among all types of content, meaning they receive more Facebook likes, shares and comments than text, links and even videos.
Allow Customer Reviews
Allowing customers to post reviews of your commercial moving service on social media is an excellent way to build authority and trust. According to a BrightLocal Local Consumer Review Survey, 88% of consumers trust online reviews as much as recommendations from a friend or family member (source).
Facebook Ads
Last year, Facebook announced that it would be displaying fewer promotional posts in users' news feeds. So, what does this mean for commercial moving companies who use the network to attract new customers and generate additional sales? Unless you are paying for exposure via Facebook Ads, few users may actually see your posts.
"...people will see less of this type of content [promotional] in their News Feeds. As we've said before, News Feed is already a competitive place — as more people and Pages are posting content, competition to appear in News Feed has increased. All of this means that Pages that post promotional creative should expect their organic distribution to fall significantly over time," explained Facebook when announcing the change.
Don't Forget LinkedIn
According to research, roughly 80% of all business-to-business (B2B) social media leads are generated through LinkedIn. It goes without saying, LinkedIn can be a powerful tool to generate more moving leads.  Of course, this makes sense considering the fact that LinkedIn is designed specifically for professionals. Commercial moving companies should embrace LinkedIn by maintaining an active presence and networking with other companies and prospective clients.
Make Your Service Known
If you're going to use social media for the purpose of attracting new leads, make sure your followers know exactly what you do. If your service is not clearly stated on your social media profiles and pages, it could cost you sales.
Post Discounts and Promo Codes
There's no easier way to attract followers to your social media accounts than by posting discounts and promotional codes. Offering your followers a 10% promo code for a commercial moving service, for instance, will keep them interested and engaged.