Posted On Friday, June 23, 2017 by Evan Lamolinara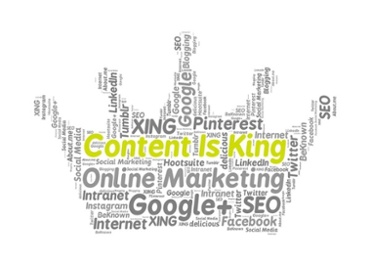 Do you use content marketing to attract new prospects to your business? Regardless of what exactly your business offers -- a product, service, etc. -- high-quality content can help you reach your goals. When you publish high-quality content that's relevant to your target audience, prospects will find your business more easily and view your company as a thought leader, adding credibility. And this almost always translates into more conversions.
But how do you measure the success of your content? Thankfully, there are several metrics that you can track, which we're going to explore in this blog post.
Consumption Metrics
Content marketing metrics generally fall under the category of consumption, sharing and retention. As the name suggests, consumption metrics reveal how users consume your content. This includes metrics like the number of total pageviews, unique pageviews, average time spent on page, referral traffic, etc. For downloadable content (e.g. eBooks, podcasts, PDF files, etc.), consumption metrics may also include the number of downloads.
After publishing new content on your website, keep and eye and on these metrics to measure the way in which visitors consume it. If it has a low average-time-on-page compared to the rest of your site, perhaps you should reevaluate the content.  If a particular article on your website has a high number of pageviews, on the other hand, you should create new pieces using a similar format. Once you've found a recipe that works for your content marketing efforts, you can replicate the process elsewhere.
You can install Google Analytics to measure consumption metrics on your website or blog.
Sharing Metrics
Statistics show that approximately 81% of the United States adult population has at least one social media profile. Therefore, it's a good idea for business owners and marketers to track social sharing metrics as well.
Social sharing metrics include Facebook shares, Google +1s, tweets, Diggs, etc. Using this information, you can determine which pieces of content are making an impact on users. Conventional wisdom should tell you that users are more likely to share your content on their Facebook profile if they find it useful and helpful. If a user doesn't enjoy reading your content, it's doubtful he or she will share it on social media.
It's important to note that since 2015 Twitter no longer displays the number of tweets as webpage has received from share buttons. To overcome this issue, consider using a third-party metrics service like BuzzSumo, which reveals a plethora of social metrics including Twitter shares. While BuzzSumo is a paid service, most marketers and business owners will agree that it's well worth the cost.
Retention Metrics
Don't forget retention metrics when analyzing your content. Just because a visitor has landed on your site and accessed your content doesn't necessarily mean that he or she will stay. And given the fact that selling to a new customer costs 7x more than selling to an existing customer, poor retention rates can take a heavy toll on businesses.
So, what are some examples of retention metrics? Well, exit rate is one such metric. As explained by Google, exit rate refers to the percentage of pageviews for a particular page that were the last in the session. In other words, is the percentage of visitors who access the webpage but leave the site without clicking through to an additional page on your site. If 1,000 people access your webpage and 100 end their session by closing their browser or otherwise leave your site, that page has a 10% exit rate.
The number of returning visits your webpage receives is another retention metric. Failure to create engaging content that your target audience enjoys reading/accessing will likely result in a low percentage of returning visits. But if you publish content that's engaging and interesting, visitors will bookmark the link and return to access the page later in the future.
Here are some content marketing tips to boost retention:
Create content for human readers, not search engines.
Engage in discussions with your site's visitors.
Publish content that's relevant to your target audience.
Break up your content in several small sections (don't create a large wall of text).
Create content in multiple parts, encouraging users to return for the second part.
Ensure your web-based content loads quickly. Long load times may discourage users from returning.
In Conclusion
The secret to any digital marketing campaign is high-quality content that's relevant to your target audience. However, just because you "think" a particular piece of content is superior to your competitors doesn't necessarily mean that it is. Business owners and marketers are often biased towards their own content -- and that's okay. By keeping an eye on consumption, retention and social sharing metrics, you'll know which pieces of content are yielding the best results and which ones are not.
Hopefully, this gives you a better idea of content marketing metrics and how to incorporate them into your campaigns. Just remember to track consumption, sharing and retention metrics. These three types of metrics will set you on the right path for content marketing success.