Posted On Thursday, November 15, 2018 by SalesLeads Inc.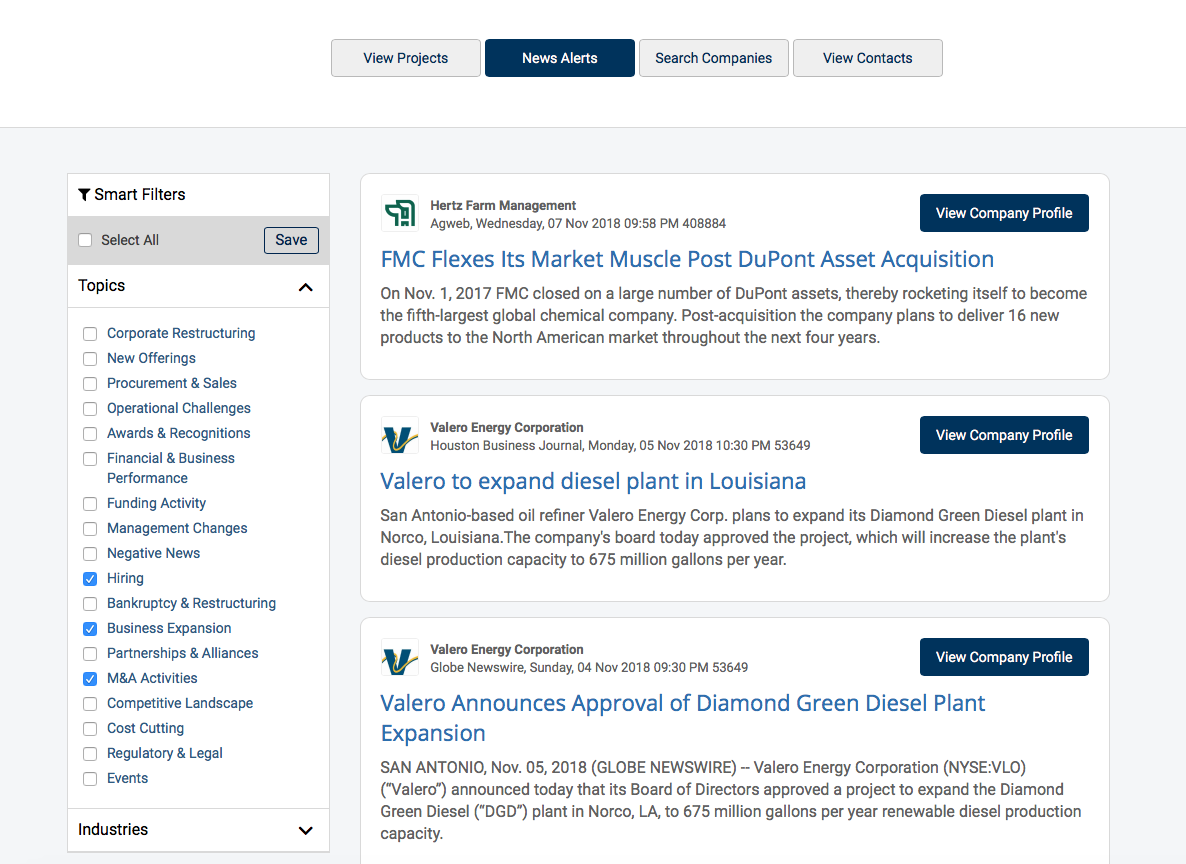 SalesLeads, a leading provider of high quality B2B Market Intelligence, announced today the release of News Alerts, the new add-on product aimed at monitoring and tracking critical news and social updates for key accounts and industries. The News Alerts is easily customized by the sales and/or marketing professional and delivers critical target intelligent content that enables a professional to penetrate strategic & key accounts. The News Alerts tracks and stores content such as:
* Mergers & Acquisitions
* Funding Announcements
* Management Changes
* Regulatory News
* Corporate Restructuring
* Partnership and Alliances
* Financial Performance
* Cost cutting Initiatives
* New product offerings
* Hiring initiatives
* Social updates
The News Alerts is fully integrated into the Market Intelligence Platform with 'View Projects', a high quality B2B identified projects sales leads, 'Search Companies', value-based data intelligence, and 'View Contacts' a way to store, access, utilize and download key contact intelligence. The News Alerts product features a target account watch list and industry news feed, tracking critical content identified by the sales and marketing professional.
"News Alerts is essential to every sales and marketing professional that sell & market to Facilities," said Evan Lamolinara, President of SalesLeads Inc. based in Jacsksonville, FL. "We built the functionality with the feedback and support of our current users that use our Market Intelligence Platform regularly to contact companies with identified projects, search for additional companies in our robust database and store key decision makers. Now with News Alerts, sales and marketing professionals have a strategic advantage when critical news is released."
SalesLeads Inc. is offering a complimentary 45 day access, at no charge, to News Alert when you open a free account. The Company provides fully integrated access to new project opportunities while gaining insights into target and key accounts with easy to use tabs.