Posted On Monday, May 6, 2019 by SalesLeads, Inc.

SalesLeads Inc., released its overall analysis of New Construction, Renovation, Expansion & Equipment Upgrades for companies that serve the Industrial Construction segment for Quarter 1, January 1 through March 31, 2019. 
Q1 Results:
Across the U.S. 962 New Industrial Construction project reports were issued for projects in the conceptual, planning, approval and groundbreaking phases. 74 Projects were reported as in progress.
There were 695 project reports issued for companies planning renovations or built-outs, while 615 companies reported expansion plans and only 53 companies reported plant closures. An additional 494 companies reported equipment upgrades, a positive outlook for those looking to sell or market equipment. 
 Leading Industries Account for 1,549 Total Reported Project Reports:
394 Chemical / Oil & Gas / Energy
283 Food & Beverage
48 Logistics / Supply Chain
356 Consumer & Industrial Manufacturing
73 Metals, Minerals / Aggregates
From the 1,549 Project Reports, 35 are investing over $100 million, 98 projects are between $25 - $99 million, while 143 are investing between $10 - $24 million. 
New Construction RLB Crane Index Report
According to Construction Dive, the RLB Crane Index shows construction activity in 10 of the largest U.S. cities for the past 6 months.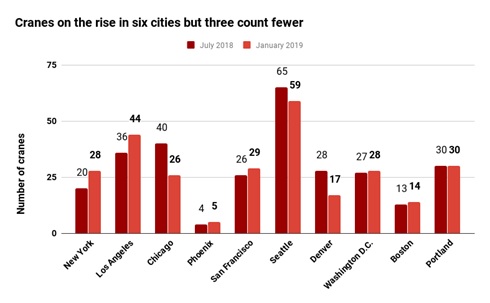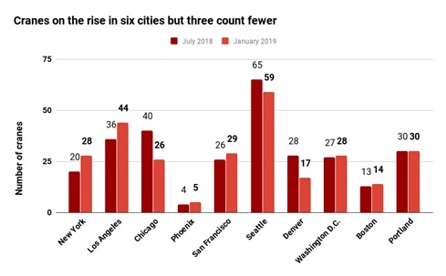 New Construction Projects Highlights:
Texas: In February, SalesLeads reported on a logistics service provider investing $11 million for the new construction of a 231k sq ft warehouse and office facility. 
Kentucky: Mid March, SalesLeads reported a truck manufacturer pre-leasing a 702k sq ft office and distribution facility.
Delaware: At the beginning of March, SalesLeads released a project report on a biotechnology company investing $18 million for the construction of a manufacturing and laboratory facility.
California: In Mid February, SalesLeads issued a project report on an aquaculture company investing $400 million for the construction of a 699k sq ft processing facility, currently in the design project stage.
Open a Complimentary Account to get Data on Your Target Accounts.