Posted On Wednesday, September 18, 2019 by Evan Lamolinara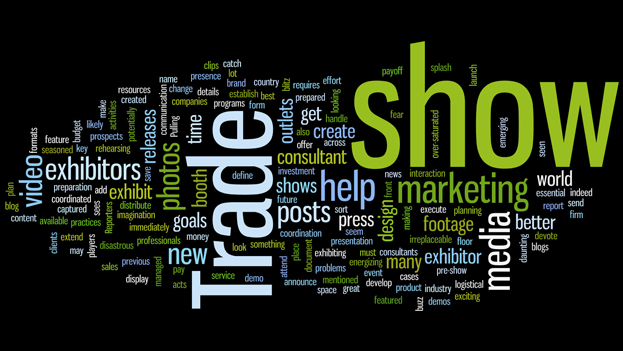 Trade show season is upon us and everyone is hoping it will produce the quantity and quality of leads needed to close out the year and build a backlog for 2020. In order for that to happen, we need to discuss how to best prepare and use all of the offerings provided by the show producers.
Let's begin with the obvious. The trade show booth.
Most of us center our attention on the trade show booth. We rely on it to be the repository of sales interest and leads. We stand behind the table with brochures, case studies, maybe a video, and plenty of candy and premium items, hoping someone comes with interest. Time and again, it falls short of expectations.
Let's set a more realistic expectation: The trade show booth is a meeting place or gathering place for all activities at the show. If someone stops by showing interest, that a bonus!  
Pre-Trade Show
Many times, the trade show organizers provide a list of Registered Attendees. Take a look at the list. Are any of those on the registered attendee list your customers, prospects within the sales funnel or on the list of project reports SalesLeads sends to you? Mark those. We'll come back to them. In the meantime, know you'll be making a phone call to personally invite them to your booth for a purpose. Again, hang tight.
Identify other prospects that you'd like to target. Maybe they were a looking to purchase your products or services a few years ago, or you had heard they were going to be evaluating solutions soon. Now, take a look at the names. Is that really everyone? Probably not. Use SalesLeads' Target Account Sales Intelligence. Look up the company name and identify all those you want to communicate with. Add those names to the list to send a more personal message to…maybe letting them know you're at the show launching X, and you want to be sure they are the first to know.
The remainder of the prospects on the list are cold opportunities, so let's warm them up with a direct email or direct mail. Invite them to your booth for a one-on-one demo, or an event you will be participating in at the trade show, such as a presentation, press conference or sponsored party.
Activities at the Show
Presentation – You may not have an opportunity this time around to submit your idea for a presentation. This usually happens months in advance for most shows. If not, be sure to visit the presentations to get an idea of what the show organizers want. If you have been awarded a slot, be sure to promote your presentation in a pre-show direct email, press release, website and place a sign at your booth and talk about it every chance you get.
Press Kit – Most shows will have a press room. This is an opportunity to have the editors and writers get to know your company as well as subject matter experts. Put together a digital press kit that consists of a one page 'Who is' that speaks clearly and concisely about your company and its products and services. Include a press release that shares something new. If you have nothing new, repackage, reposition, remessage your most recent announcement. Include a brochure, white paper, case study or video.
Press Announcement at the Show – Some shows will have an opportunity for your company to sign up and announce a new product launch, merger, service or something of significance. This may be done at the trade show booth or in a press defined room. The audience will probably not be huge, but what press shows up will be interested in what you have to say. Be sure it has quality content so the writer/editor will want to learn more and feature the product/service/announcement.
One-on-One with the Editor – Before you go to the show, contact the editors of the publications. Ask for 10 minutes of their time. Be ready to share critical information about industry direction, forward thinking vision or a case study. They are always looking for great information they can use for their publication.
Partner Customer and Prospects – Remember earlier I said to hang tight? This is valuable for moving the sales cycle along faster. Prior to the show, contact your customer or customers and confirm their attendance. Those that are going, give them a little something like a future discount on their next purchase, and ask them to meet with and discuss their experience with a designated prospect. Meet them at the show booth at a specific day/time and do the introductions. Pay for their breakfast or drinks after the show. It'll be the best investment you make.
Booth – Your trade show booth is now a meeting place that can also act as a place for others to get information. Qualify them. Just don't scan their badge, find out if they have a need. Take notes on the handheld device or have a pen and paper ready to go. Actually, you should always have pen and paper as you never know if the handheld device works or is saving properly.
Hang Out at the Tables, Go to Presentations, Go to Lunch – So many times I've had great conversations at each of these places. You are both relaxed and out of your role. Strike up a conversation, and softly qualify.
Partnerships – There is an entire Hall of companies. Someone in there is going to be a great partner where you can share leads, and bring each other into customer accounts. Before you go to the show, figure out who you want to target. Be sure you meet them at the show and begin a dialog.
When the show is complete, you now have valuable follow ups with the press, partners and even prospects.
Enjoyed this article? Let me know.