Posted On Saturday, April 25, 2020 by Evan Lamolinara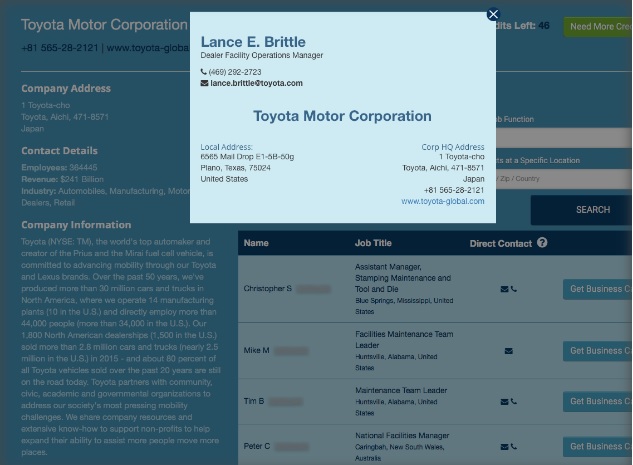 This isn't an easy time for anyone. Like everyone, we hope this is a rare occurrence and that this will end sooner rather than later. However, we still need to deal with the reality of what's in front of us.
The benefits of being in sales, marketing or a business owner is that we're creative and resourceful. And right now, we certainly need to be. The shelter in place order has taken out one of our sources for lead generation: trade shows.
An Empty Trade Show Season
Trade shows have always been a source for sales leads, whether you are in a trade show booth or simply walking the trade show floor. It is our chance to connect with people uncovering projects that are going on right now, or coming up in the near future. As exhausting as they were to attend and work, finding the after parties were instrumental in making new connections.
Actionable Projects You Need to Know About
At SalesLeads, we are pleased to report the continued discovery of new actionable projects and new business opportunities by our researchers. Business is continuing to move forward with capital equipment purchases, new construction, expansion & renovation projects across a variety of industries.
Each Project Report comes with a summary statement that provides pertinent details of the project. For instance, "Modular home mfr. is planning for the construction of a 486,000 sf warehouse and manufacturing facility. They are currently seeking approval for the project."
Now that you know what the overall project is about, SalesLeads provides the next level of information with OppAlerts. OppAlerts identifies equipment needs for the project. For the modular home manufacturer, there's opportunities including:
Building construction
Floor coating
Mechanical construction
Compressed air systems
Heat exchangers
Networking / security equipment
Fire suppression equipment
HVAC equipment
Signage
In addition, you'll get the contact information for those responsible for the project…and then some. The name, title, direct phone number and email address are included, along with a link to their LinkedIn profile.  Now you know what they need and how your product and/or service can be of value to their organization.
Give a Call, Send the New Sales Lead an eMail
Because we supply direct phone numbers, you should be able to reach them. Many of these organizations are either essential businesses or their phones have been forwarded.
Be sure to touch them a second time. Now that you have their email address, let them know you left a voice mail message. Stating the same message, a second time, will only reinforce what you said the first time. If you were able to have a conversation on the phone, be sure to send a thank you for their time along with a recap.
Send an eMail, then Give the New Sales Lead a Call
Some are more comfortable sending an email first. This will give the sales rep a reason to call. With the shelter in place order in effect, email has become an instrumental part of communicating with potential new customers.
Sending personalized emails with a tailored message is going to help produce the results you want. We're finding prospects are responding more either to say contact me back in a couple weeks, or here's my number, call tomorrow. eMail is an essential channel for lead nurturing and filling the sales funnel.
SalesLeads is a resource for high quality sales leads or Project Reports. Now is your opportunity to maximize these quality sales leads and fill your sales funnel. Then when all goes back to familiarity, you've added a new sales channel that can produce quality new sales with great relationships.