Posted On Monday, May 4, 2020 by Evan Lamolinara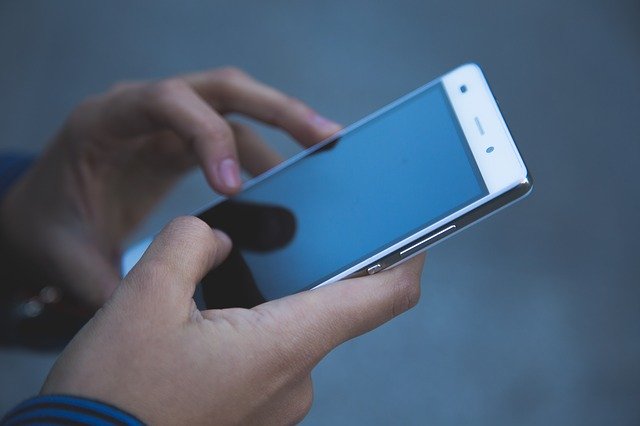 Do you use cold calling to generate B2B sales? Assuming you target qualified leads, it can have a substantial impact on your B2B company's sales revenue. According to one study, nearly six in 10 C-level executives to communicate with B2B vendors and suppliers by phone. Because cold calling specifically involves calling leads with whom you've had no prior contact, however, you must quickly introduce yourself while explaining the reason for your call. So, what's the best way to introduce yourself when cold calling B2B buyers for sales purposes?
Address the Buyer By Name First
When cold calling, you should typically address the B2B buyer by name first -- even before introducing yourself. B2B buyers consist of C-level executives and other decision-makers, all of whom are busy running their own business. Therefore, you'll only have a few seconds to create a connection with the B2B buyer. If you don't address him or her by name, the B2B buyer may assume that you are a spammer who's blindly calling countless businesses. By addressing the B2B buyer by name, on the other hand, he or she will immediately recognize your call as being relevant and legitimate.
If you only know the B2B buyer's phone number and not his or her name, you should do some research before picking up the phone. Searching for the B2B buyer's phone number on Google -- enclose the phone number in quotation marks for the most relevant results -- may show his or her name. Alternatively, you can check LinkedIn to see if the B2B buyer's company has a profile available. If you discover a LinkedIn profile, you may find the B2B buyer's name and phone number listed.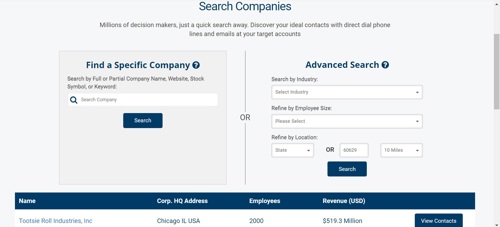 A faster way to get the information with high accuracy is with SalesLead's Target Account Search feature. All you need to do is type in the company name, and you can search it that way. If it is too large of an organization, then use the Advanced Search feature and search by industry, employee size, location, zip code or even radius. It's a great way to get exactly what you need to make that call, personal.
Mention Your Name and the Name of Your Name

After addressing the B2B buyer, you should mention your name as well as the name of the company for which you work. You can use a simple script, such as "My name is John Doe, and I'm calling from [YOUR COMPANY]," or you can wing it by coming up with a similar introduction on the fly.
The key thing to remember is that you want to mention both your name and your company's name. Since the B2B buyer hasn't communicated with you in the past, he or she probably won't recognize your name. The good news is that many B2B buyers do recognize the names of B2B vendors and suppliers. By mentioning your B2B company's name, the B2B buyer may recognize it, in which case he or she may feel compelled to make a purchase.
Reference Referrals

If you were referred to the B2B buyer from a previous B2B buyer, you should mention this referral in your cold call. Referrals are a powerful selling tool. They act as a badge of trust while showing the B2B buyer that someone he or she knows recommends your B2B company's products or services. As a result, you should reference referrals when introducing yourself in cold calls.
During your introduction, mention the other B2B buyer or individual who referred you to the B2B buyer whom you are cold calling. You don't have to into a long story about this past correspondence. Rather, tell the B2B buyer that you were referred to him or her by this person.
Keep the Introduction Short
The shorter your introduction, the better. After all, the introduction is only one element of an effective cold call. You must also convey the value of your B2B company's product or service, explaining why the B2B buyer should purchase it. If you spend five minutes or longer introducing yourself, the B2B buyer may stop listening. The B2B buyer may not necessarily hang up the phone, but after a certain point, he or she will become disengaged. And when this occurs, your chances of generating a sale are slim to none.
Close With Your Name and Contact Information
In addition to mentioning your name at the beginning of a cold call, you should mention your name -- along with your contact information -- at the end. Many B2B buyers will forget your name if you only mention it once, during the beginning. But if you mention it a second time during the end, you'll reinforce your name and contact information to increase your chances of sales success.
Assuming you know the B2B buyer's email address, you can send him or her an email after the cold call. In this email, thank the B2B buyer for his or her time while requesting a follow-up call at a later time or date.
Put Your Efforts to Work
Now that you know how to cold call, let's get you started with our Custom Lead Generation. SalesLeads can help you build a prospect list that's based on your best customers or that fits your buyer personas. The highly researched prospect list will help you focus your inside sales and outside sales on key companies that fit a specific profile. 
Remember, you only get one chance to make a first impression when cold calling B2B buyers. Just remember to follow the tips here when introducing yourself to B2B buyers during cold calls.