Posted On Tuesday, August 24, 2021 by Cherise Kennerley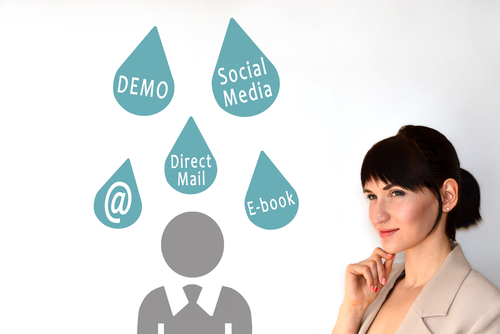 Generating quality sales leads continues to rank in the top 5 challenges for sales professionals regardless if you are working in the office or remote. With all of the tools available today, and there's plenty, are you using them all and hoping for the best, or are you integrating the sales tools in order to generate high quality sales leads.
As sales professionals, we all know that people don't buy from companies, people buy from people. Even in our B2B space. With the rise of CRM, automation tools and social media, you would think that it's become easier to connect with target audiences and generate sales. It hasn't gone as expected. Let's explore.
Cut and Paste
Whether it's an email campaign, cold calling or a social media campaign, sales reps use the same generic message to prospects in the database, purchased list or on LinkedIn. It's the old 'spray and pray' technique that didn't work before and it certainly doesn't work now.
Current Challenges
E-Mail campaigns are still effective, but it's become increasingly more difficult as company security systems recognize the email as coming from a service and/or in bulk and redirects it to the company junk. It never reaches the end prospect.
Social media is many times treated like an email campaign. Write a message and go to town. How is that any different than an email campaign? If your lucky enough to identify the right level person with an opportunity to connect, why would you give a generic message?
Calling efforts can also be a very effective tool. However, again it's all in the approach. According to resourcefulselling.com, cold call success rate is around 2% and warm calls can be as high as 30%.
How Can You Make Sales Tools Work for You?
Using the various tools and having them work together can result in better sales lead generation. We all know that gathering the right information, qualifying prospects, and understanding the prospects needs has been the answer since the start of sales.
Target List: Take the time to identify who you want to get new business from and why. Mark them in your CRM system.
Social Media: Use LinkedIn to look up the person, know that they are active at the company, know what their primary responsibilities are and understand what's important to them based on published posts. That's great research material and information to reference. They'll know you did some investigating when you ask to connect.
SalesLeads: SalesLeads' Project Reports does much of the homework for you. The Project Reports provide content on an identified project so you can tailor your conversation to the project itself. You can also look up an individual or company to gather information about current and past projects.
Now that you have some foundational information, develop key messages that identify and answer problems that they may be experiencing (or at least you know of other customers that have experienced similar issues). Now that you have crafted these messages with valuable content, now you can begin to use this information in your communications.
Build Quality Relationships with Prospects
Instead of placing a list of prospects in front of you to cold email, cold message or cold call, the companies and individuals you've identified in your CRM are the ones to begin building a relationship with regular communications.
Establish a LinkedIn connection and boost your credibility and familiarity with who they are and what they do. Begin to establish a rapport by sharing content that is useful and applicable in their business. If they do not have a need for your product or service at this time, they may say, 'try back at X time, but in the meantime, I know of X person who could use your product / services.'
Send an individual email that builds off of what you've shared on LinkedIn. Send case studies with a note of why this story is relevant. Or industry articles, white papers and other value-based content that continue to build your credibility and give great tips to prospects.
Calling efforts has changed from cold to warm as you've provided great content. If you're using a Project Report from SalesLeads, you already have the project details as well as the contact persons identified with that project. Now you have a great warm call.
Finally…
Remember, people want to buy from people. Take the time to tailor the communications based on who each person is and what they do. You'll get farther with 50 than you will with 500.