Posted On Thursday, July 11, 2019 by Evan Lamolinara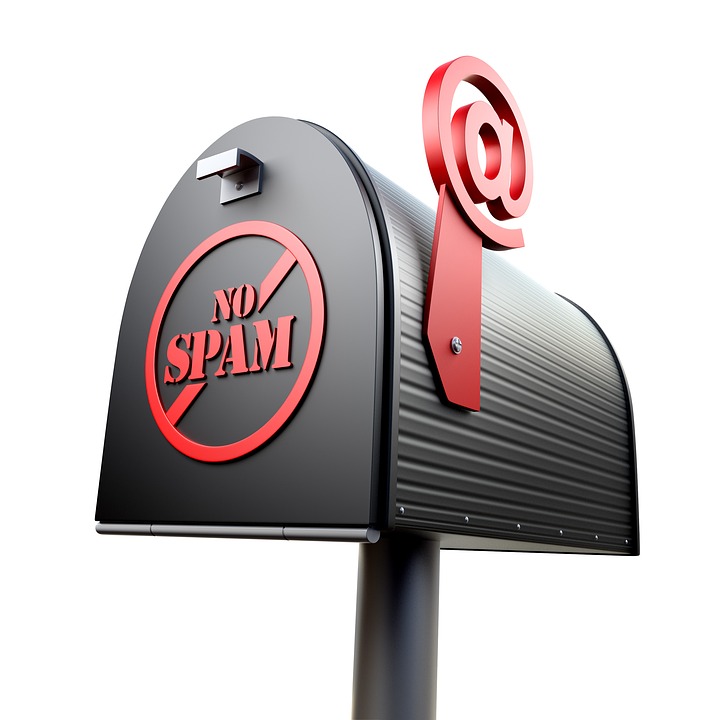 Statistics show the average return on investment (ROI) for email, when used as a sales leads channel, is 4,400%. In other words, companies earn an average of $44 in revenue for every $1 they spend on email. But if you're planning to use email to generate sales for your B2B company, you'll need to take the necessary precautions to ensure your messages land in the recipients' inbox. If an email land in a recipient's spam folder, it's unlikely he or she will see it or even read it. Furthermore, having too many of your emails flagged as spam can hinder your deliverability rate, meaning you'll reach fewer users using this sales tactic in the future. The good news is that you can prevent your sales emails from going to recipients' spam folder by following these 10 tips.
#1) Send Emails From Your B2B Company's Official Website

When planning your email strategy, it's recommended that you use your B2B company's website as your email address. Some B2B companies simply use a Gmail or Yahoo Mail account, believing it's just as effective as a branded-domain email account. Unfortunately, this often results in low click-through rates (CTRs) along with poor deliverability. You'll have an easier time reaching recipients' inbox by using an email account that's associated with your B2B company's official website.
#2) Authenticate Your B2B Company's Emails

Authenticated emails are less likely to land in recipients' spam folder than unauthenticated emails. Whether you use the Sender Policy Framework (SPF), Domain Keys Identified Mail (DKIM) or Domain-Based Message Authentication Reporting and Conformance (DMARC), you should set up email authentication to increase the performance of your B2B company's emails.
#3) Don't Send Too Many Emails Too Fast

For email marketing, slow and steady wins the race. If you send too many emails too fast, inbox providers may flag them as spam. To minimize the risk of your emails being flagged as spam, try to avoid sending more than two or three emails per week to the same recipient.
#4) Personalize Subject Lines

Another way to lower the risk of your emails going to recipients' spam folder is to personalize the subject lines. The subject line is arguably the single most important element of an email. Before opening a new email, users will often look at the subject line. If it doesn't pique their interest, they won't open or read it. And with a lower CTR, any additional emails sent from your B2B company may go to the recipient's spam folder.
#5) Use a Trusted, High-Quality Email Marketing Service Provider

If you're going to use an email marketing service provider (which you should), you must choose a trusted, high-quality provider. Otherwise, your emails could land in the recipients' spam folder. Some of the cheaper, lower-quality email service providers are used for spam, so their internet protocol (IP) addresses are automatically flagged by inbox providers. By choosing a trusted, high-quality email service provider, you'll have a "clean" IP address from which to send emails.
#6) Mention Your B2B Company at the Top of Your Emails

At the top of your emails, mention your B2B company so that recipients know exactly who sent the email. If you don't, recipients may click the "spam" button without taking the time to actually read your emails. And if too many of your B2B company's emails are flagged as spam, your deliverability rate will drop.
#7) Comply With CAN-SPAM Act

Perhaps the most important tip to prevent your B2B sales emails from going to recipients' spam folder is to comply with the CAN-SPAM Act. You can read more about this legislation by visiting the Federal Trade Commission's (FTC's) website here. Basically, though, it requires you to be transparent when using email for sales or other commercial purposes while also providing recipients with instructions on how to opt out of receiving additional emails from your B2B company in the future.
#8) Add Your B2B Company's Physical Address

In addition to mentioning your B2B company at to the top of your emails, add your B2B company's physical address somewhere in your messages. You don't have to necessarily place it at the top of your emails, but it should be placed in a clear and visible location. With your B2B company's physical address added, inbox providers will recognize your emails as being legitimate.
#9) Honor Unsubscribe Requests

As part of the CAN-SPAM Act, you must honor unsubscribe requests in a timely manner. If a recipient wants to unsubscribe, don't continue sending him or her emails. Instead, honor the recipient's request immediately to improve your B2B company's email reputation.
#10) Clean Up Your Email Lists

You should clean up your B2B company's email lists by removing invalid entries. If the same recipient is listed twice, for example, remove the duplicate entries so that he or she is only listed once. And if your emails are automatically returned from a particular address, remove that address from your list.
Keeping Your eMail List Fresh with New eMails
It can be very challenging to get an email list that is 'clean', meaning it doesn't contain outdated or bad emails. Most email list providers can provide up to 20% bad email addresses. When you're paying approximately $1 per email address, that can add up quickly. It also makes you wonder if the rest of the email addresses are the right one's for your campaign. Putting the element of doubt is never a good thing. 
That's why more and more people are choosing to use both services from SalesLeads.
1. Target Account Sales Intelligence: this is a database specific for your industry...and then some. The content is validated constantly so the number of rejections is very small, lesser than 5%. There are no minimums so choose to send what you want to send to control the follow up process. You only pay for what you choose, so it's certainly cost effective for any strategic campaign you want to do. Open a free account to take a look for yourself. No obligations.  
2. Project Reports: These project reports are specific for your industry. These are sales leads or project reports with identified projects ready to be sold. You can try it out for free by simply requesting it once you open up the free account. Each project report comes with a description, where they are at in the phase of the project, along with all of the contact names, email addresses and phone numbers associated with the project. Give it a try.
Along with the other tips listed here, cleaning up your email lists will reduce the risk of your emails being flagged as spam.